Francesco Baldi was the first sparkling wine producer in Romagna at the beginning of the 1900s, with Albana most likely blended with other wines. He produced sparkling wine in large quantities in the villa "Le Fontane" in the town of Sarna near Faenza. Thanks to its superb Romagna quality, it was sold in Bologna and exported to France as well as Russia where it received exclusive prizes and awards.
The Albana Spumante in Romagna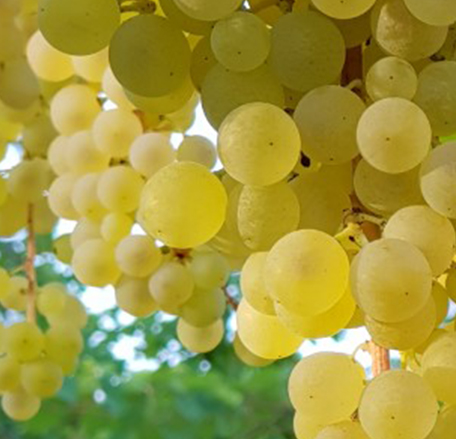 Romagna Albana Spumante DOC wine is obtained from vineyard grapes having the following ampelographic composition:
Albana: minimum 95%;
Other white grape varieties allowed for cultivation in the Emilia Romagna region can contribute: maximum 5%
Color
golden yellow.

Aroma
distinctive, intense, delicate.

Flavor
sweet, pleasant, velvety.
Characteristics
Romagna Albana Spumante DOC is a golden yellow wine, with a fine mousse and persistent perlage. It has a distinctive, deliciously fruity aroma, emblematic of the grape variety's well-balanced structure and pleasant freshness. The flavour is pleasant, velvety, sweet, but never cloying, as it is produced with grapes subject to slight withering.
Ideal to pair with traditional regional desserts, a slice of pie, or cake, but also with rice cake or fragrant shortbread biscuits. It is appreciated in all its authenticity if sipped at a temperature of 8° C.
With Romagna Albana Spumante DOC, must fermentation can be carried out, even partially, in wooden containers. Romagna Albana Spumante DOC is produced by resorting to the practice of natural fermentation in the bottle according to the classic method, or natural fermentation in an autoclave, according to European Community provisions and national standards. Secondary fermentation, throughout the entire vintage, is carried out with partially withered grape must.
Alcoholic strength by volume: minimum 16% Vol.;
Residual sugars: over 60 g/L;
Production Area
In the province of Bologna: 7 municipalities
In the province of Forlì / Cesena: 10 municipalities
In the province of Ravenna: 5 municipalities
---