The clay soils naturally capture the vigor and a pleasing vegetative-productive balance, so much so that normally these soils produce wines that don't need many agronomic interventions. Instead, these interventions may become important with the fresher and more fertile medium-mix soils. The presence of limestone tends to inspire floral sensations or fresh fruitiness in wines, unlike wines obtained on decarbonated soils. The norther exposures and higher altitudes tend to produce fresher and more fragrant wines.
Rubicone IGT wines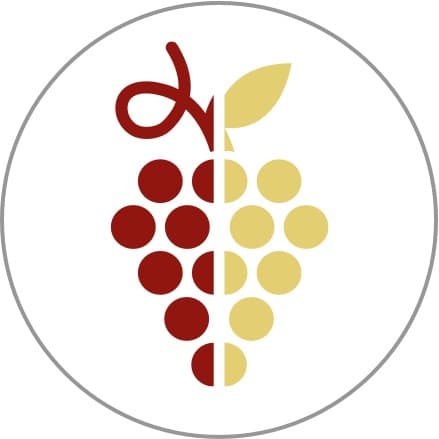 In the wines with the Indicazione Geografica Tipica of "Rubicone", the specification of grape variety is allowed exclusively for the following:
Alicante, Ancellotta, Barbera, Bombino bianco, Cabernet franc, Cabernet Sauvignon, Canina nera, Centesimino, Chardonnay, Ciliegiolo, Famoso, Fortana, Garganega, Malbo gentile, Malvasia, Manzoni bianco, Marzemino, Merlot, Montù, Moscato bianco, Müller Thurgau, Negretto, Grechetto gentile, Pinot bianco, Pinot grigio, Pinot nero, Raboso, Refosco dal peduncolo rosso, Riesling, Riesling italico, Sangiovese, Sauvignon, Syrah, Trebbiano, Uva Longanesi, Verdicchio bianco.
Characteristics
The traditional gastronomic pairings with Rubicone IGT wines are with meat and fish dishes, traditional dishes of the Emilian tradition and fresh cheeses.
Production Area
The entire province of Forlì/Cesena
The entire province of Ravenna
The entire province of Rimini
In the province of Bologna: 11 municipalities
---
RUBICONE IGT BIANCO

keyboard_arrow_downkeyboard_arrow_up

Colour: moderately deep straw yellow;
Aroma: of good intensity, with floral and/or fruity scents prevailing depending on the variety composition and cultivation environment;
Flavour: dry to sweet, savory;
Alcoholic strength by volume: minimum 10% Vol.;

RUBICONE IGT BIANCO VIVACE

keyboard_arrow_downkeyboard_arrow_up

Colour: straw yellow;
Aroma: of good intensity, with floral and fruity scents according to the variety composition;
Flavour: dry to sweet, savory;
Alcoholic strength by volume: minimum 10% Vol.;

RUBICONE IGT BIANCO FRIZZANTE

keyboard_arrow_downkeyboard_arrow_up

Colour: straw yellow;
Aroma: of good intensity, with floral and fruity scents different according to the variety composition, but substantially fresh;
Flavour: dry to sweet, savory;
Alcoholic strength by volume: minimum 10% Vol.;

RUBICONE IGT BIANCO SPUMANTE

keyboard_arrow_downkeyboard_arrow_up

Colour: straw yellow;
Aroma: floral and fresh fruity notes which can be associated with hints of moderately intense bread crust depending on the duration of fermentation;
Flavour: from brut nature to sweet, fresh, tending to savory;
Alcoholic strength by volume: minimum 10% Vol.;

RUBICONE IGT ROSSO

keyboard_arrow_downkeyboard_arrow_up

Colour: moderately deep ruby red;
Aroma: relatively ripe fruity notes that are occasionally accompanied by floral and/or spicy notes;
Flavour: dry to sweet, with a well-balanced softness and correct acidity;
Alcoholic strength by volume: minimum 10% Vol.;

RUBICONE IGT ROSSO PASSITO

keyboard_arrow_downkeyboard_arrow_up

Colour: moderately deep ruby red;
Aroma: relatively ripe fruity notes that sometimes are accompanied by floral notes and/or spicy notes;
Flavour: from dry to sweet, distinctive, balanced;
Alcoholic strength by volume: minimum 13% Vol.;

RUBICONE IGT ROSSO VIVACE

keyboard_arrow_downkeyboard_arrow_up

Colour: moderately deep ruby red;
Aroma: vinous, with fresh fruity and floral notes differently composed according to the variety base and the area of cultivation;
Flavour: dry to sweet, with good softness and correct acidity;
Alcoholic strength by volume: minimum 10% Vol.;

RUBICONE IGT ROSSO FRIZZANTE

keyboard_arrow_downkeyboard_arrow_up

Colour: moderately deep ruby red;
Aroma: vinous, with floral and fresh fruity notes;
Flavour: dry to sweet, with a well-balanced freshness and flavor;
Alcoholic strength by volume: minimum 10% Vol.;

RUBICONE IGT ROSSO NOVELLO

keyboard_arrow_downkeyboard_arrow_up

Colour: bright ruby red;
Aroma: vinous and with strong fruity notes;
Flavour: well-balanced softness and correct acidity;
Alcoholic strength by volume: minimum 11% Vol.;

RUBICONE IGT ROSATO

keyboard_arrow_downkeyboard_arrow_up

Colour: pink, with various depths and shades;
Aroma: prevailing fruity notes;
Flavour: from dry to sweet, with the appropriate softness and freshness, savory;
Alcoholic strength by volume: minimum 10% Vol.;

RUBICONE IGT ROSATO VIVACE

keyboard_arrow_downkeyboard_arrow_up

Colour: pink, with various depths and shades;
Aroma: prevailing fruity notes;
Flavour: from dry to sweet, with the appropriate softness and freshness, savory;
Alcoholic strength by volume: minimum 10% Vol.;

RUBICONE IGT ROSATO FRIZZANTE

keyboard_arrow_downkeyboard_arrow_up

Colour: pink, with various depths and shades;
Aroma: light floral notes, accompanied by more decisive fruity notes;
Flavour: from dry to sweet, with the appropriate softness and freshness, savory;
Alcoholic strength by volume: minimum 10% Vol.;

RUBICONE IGT ROSATO SPUMANTE

keyboard_arrow_downkeyboard_arrow_up

Colour: pink, with various depths and shades;
Aroma: floral and fruity notes, which are accompanied by hints depending on the duration of fermentation;
Flavour: from brut nature to sweet, fresh and savory;
Alcoholic strength by volume: minimum 10% Vol.;

RUBICONE with white grape vine indication (also as FRIZZANTE, SPUMANTE and VIVACE)

keyboard_arrow_downkeyboard_arrow_up

Colour: moderately deep straw yellow;
Aroma: good intensity, with a varied range of floral and/or fruity scents, varying in composition and intensity depending on the grape variety and the cultivation environment. In the Spumante wines, hints linked to a relatively prolonged fermentation may be present. Wines with the indication of grape variety "Famoso", "Moscato" and "Malvasia" may have somewhat striking notes of muscat and rose;
Flavour: dry to sweet, rather fresh, savory;
Alcoholic strength by volume: minimum 10% Vol.;

RUBICONE with black berry variety indication (also as FRIZZANTE and VIVACE)

keyboard_arrow_downkeyboard_arrow_up

Colour: moderately deep ruby red;
Aroma: relatively ripe fruity notes that are occasionally accompanied by floral and/or spicy notes;
Flavour: from dry to sweet, somewhat soft and fresh depending on the type, well-balanced flavor and fullness;
Alcoholic strength by volume: minimum 10% Vol.;

RUBICONE with black berry grape variety as PASSITO

keyboard_arrow_downkeyboard_arrow_up

Colour: moderately deep ruby red;
Aroma: relatively ripe fruity notes that are occasionally accompanied by floral and/or spicy notes;
Flavour: from dry to sweet, distinctive, balanced;
Alcoholic strength by volume: minimum 13% Vol.;

RUBICONE NOVELLO with black berry grape variety

keyboard_arrow_downkeyboard_arrow_up

Colour: bright ruby red, moderately deep, and with red to violet reflections depending on the grape variety;
Aroma: vinous and with strong fruity notes;
Flavour: well-balanced softness and correct acidity;
Alcoholic strength by volume: minimum 10% Vol.;